Megalito de l' monato
Megalith des Monats
Megalith of the Month
NL: Borger: D27
Kun longeco de 23 metroj, alteco de 2,3 metroj kaj larĝeco de 4,7 metroj tiu estas la plej granda megalita tombo de Nederlando. Ĝe estas koridora tombo kiu datas de ĉirkaŭ 2000 a.k. de ruĝa kaj griza granito. Tiu tombo konsistas de 26 flankŝtonoj, naŭ kapŝtonoj kaj du finŝtonoj. La eniro konsistas nun de du paroj de flankŝtonoj kaj la malantaŭa kapŝtono. Ĝi longas 3,5 metrojn kaj larĝas 2,4 metroj kaj montras al 200°, la ĉambro estas orientata al 76°.
Malgraŭ tiuj egaj grandecoj la esploroj rezultis seniluziigaj. La tombon unue espolirs S-ino Titia Brongersma jam ein 1685. Ŝi trovis artaĵojn funelpokalajn, keramikerojn, sed ankaŭ la restojn de homaj ostoj. Cetere la plankon ŝi malkovris. Domaĝe la keramikaĵoj estis tiel rompiĝemaj ke ili tuj diseriĝis tiel ke la malkovrantoj ne sukcesis ilin savi senrompe. Komence celiante ke tiun tombegon kreis gigantoj, sekva esploro de la osteroj rezultis ke la mortintoj (domaĝe) estis kutimaj ordinaraj homoj. Tamen pro entuziasmo pri tiu mistera loko ŝi - frisa poeziistino el Groningeno - skribis poemon pri tiu "ŝtona kastelo": "Lof op't Hunne-bed of de Ongemeene, opgestapelde Steenhop tot Borger in Drenthe" ("Laŭdo pri la ŝtontombego aŭ la timiga, arigita ŝtonamaso en Borger en Drenthe". Ĝi nomas ĉiujn eblajn teoriojn, pri kio temas je tiu stranga tombego: Konstruaĵo de Gigantoj, templo, tombejo...
En 1938 S-ro Van Giffen unuafoje serĉis la ŝtonringon sed tio rezultis vane. En 1937 kaj 1992 la tombo estis fundamente restaŭrita.
Apud la tombo troviĝas informcentro kiu disponebligas vastan ekspozicion kaj kies gekunlaborantoj volonte respondas demandojn de la vizitantoj. Ĝi estas malfermita ĉiutage de la 10-a ĝis la 17-a, je sabatoj, dimanĉoj kaj festtagoj de la 11-a ĝis la 17-a. La tombo estas atingebla de Borger. Apud la preĝejo troviĝas la strateto Hunebedweg kiu gvidas al la tombo. Ĵus ĉe la vilaĝlimo troviĝas parkejo kaj la tombo
Mit einer Länge von 23 m, einer Höhe von 2,3 Meter und einer Breite von 4,7 Meter ist dies das größte Megalithgrab der Niederlande. Es ist ein Ganggrab aus rotem und grauem Granit, welches aus der Zeit um 2000 v.u.Z stammt. Dieses Grab besteht aus 26 Tragsteinen, neun Decksteinen und zwei Schlußsteinen. Vom Eingang sind noch zwei Paar Tragsteine und der hintere Deckstein vorhanden. Er ist 3,5 Meter lang und 2,4 Meter breit und zeigt nach 200°; die Grabkammer ist nach 76° ausgerichtet.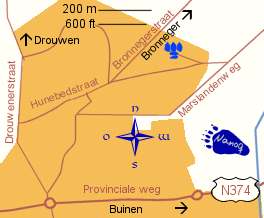 Trotz seiner gewaltigen Maße waren Untersuchungen eher enttäuschend. Das Grab wurde 1685 von Titia Brongersma erstmals untersucht. Sie fand Trichterbecherwerk, Keramikscherben, aber auch die Überreste menschlicher Knochen. Außerdem wurde der Fußboden offengelegt. Leider waren die Keramiken schon so porös, daß es ihr nicht gelang, ein Stück heil zu bergen. Sie vielen sofort auseinander.
Wurde zunächst, tatsächlich davon ausgegangen, daß dieses Grab das Werk von Riesen sei, so ergab später eine Untersuchung der Knochen, daß die Beigesetzten (leider) gewöhnliche Menschen waren.
Aus Begeisterung über diesen geheimnisvollen Ort hatte Titia Brongersma - eine friesische Dichterin aus Groningen - auch ein Gedicht über dieses "steinerne Schloß" verfaßt: "Lof opít Hunne-bed of de Ongemeene, opgestapelde Steenhop tot Borger in Drenthe" ("Lob auf das Hünengrab oder der unheimliche aufgehäufte Steinhaufen in Borger in Drenthe"). Es bringt alle möglichen Theorien hervor, was es mit diesem Grab auf sich haben könnte: Ein Bauwerk von Riesen, Tempel, Grabmal...
1938 hat Van Giffen erste Untersuchungen nach dem Steinkranz eingeleitet, was allerdings erfolglos verlief. 1937 und 1992 wurde das Grab umfassend restauriert.
Neben dem Grab befindet sich ein Informationszentrum, das eine sehr sehenswerte Ausstellung bereit hält und viele Fragen beantwortet. Geöffnet ist es täglich von 10:00-17:00 Uhr, an Samstagen, Sonn- und Feiertagen von 11:00 - 17:00 Uhr.
Zu erreichen ist D27 von Borger. Neben der Kirche befindet sich der Hunebedweg, dem wir folgen. Direkt am Dorfende befindet sich ein Parkplatz mit dem Grab.
Having a length of 23 m, a height of 2.3 meters and a width of 4.7 meters this is the largest megalithic tomb of the Netherlands. Itís a passage-grave of red and grey granite and was erected around 2000 B.C. This grave consists of 26 sidestones, nine capstones and two endstones. The entrance is somehow damaged, however there are still two pairs of sidestones and the rear capstone. The passage is 3.5 meters long, 2.4 meters wide and opens to 200°; the chamber is oriented to 76°.
Despite its enormous measurements the explorations were rather disappointing. It was first examined in 1685 by Mrs. Titia Brongersma.
She found artifacts of funnelbeakers, ceramics along with the remains of human bones. She also discovered the floor. Unfortunately the ceramics were already so porous that it was not possible to save even one without breakage. In earlier times the people were sure that this tomb was erected by giants, but a later examination of the bones showed that in fact the buried were (alas) nothing but ordinary men and women. Because of her enthusiasm for this mysterious place, Titia Brongersma - a Frisian poet - wrote a poem about this "rocky castle": "Lof opít Hunne-bed of de Ongemeene, opgestapelde Steenhop tot Borger in Drenthe" ("Praise to the stone tomb or the weird stone-heap in Borger in Drenthe"). It brings all possible theories of what could be said about that grave: A construction of giants, a temple, a tomb...
A second examination took place in 1938 by Van Giffen, looking for the kerbstones, but without any success. The grave was restored in 1937 and 1992.
Besides the grave there is an information-centre displaying an extensive exhibition on neolithic culture and whose staff supply informative answers to many questions. Itís open daily from 10:00-17:00, on Saturdays, Sundays and public holidays from 11:00 - 17:00.
D27 can be reached from Borger. Beside the church a small street "Hunebedweg" leads right to a parking area and the tomb.