D17 kaj D18 estas du arpate belaj kaj facile atingeblaj portaleca tomboj, kiuj ankaŭ bele estas situataj en la ombro de mezepoka preĝejo de Rolde.
D17 konsistas de 16 flankŝtonoj kun ok kapŝtonoj, de kiu nur unu ankoraŭ kuŝas sur siaj flankŝtonoj. Same ambaŭ finŝtonoj kaj du portalŝtonoj ĉeestas. La ĉambro estas orientata al 97°30′. Ĝi longas 13,9 m kaj larĝas 3,8 m.
D18 estas pli bone konservata. Sep kapŝtonoj kuŝas sur 14 flankŝtonoj kaj du finŝtonoj. Krome estas videblaj du portalaj flankŝtonoj kvankam ili preskaŭ estas sinkitaj en la sablon. La ĉambro de la tombo estas 13,6 m longa kaj larĝas 3,5 m kaj estas orientata al 74°30′
Ambaŭ tomboj estas facile atingeblaj. Ili troviĝas ĉe la norda vilaĝlimo de Rolde ĉe la vojoal anderen. Ĉe la preĝejo sekvu vojmontrilojn laŭ la strateto Hunnebedweg.
D17 und D18 sind zwei ausgesprochen schöne und gut zu erreichende Portalgräber, die auch noch sehr schön im Schatten der mittelalterlichen Kirche von Rolde gelegen sind. Daneben lädt ein Picknickplatz zur Pause ein.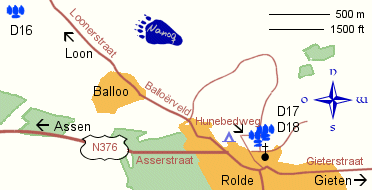 D17 besteht aus 16 Tragsteinen mit acht Decksteinen, von denen nur einer noch auf den Tragsteinen liegt. Ebenso sind noch beide Schlußsteine und zwei Portalsteine vorhanden. Die Kammer ist nach 97°30′ ausgerichtet. Sie ist 13,9 m lang und3,8 m breit.
D18 ist besser erhalten. Sieben Decksteine ruhen auf 14 Trag- und zwei Schlußsteinen. Ferner sind zwei Portaltragsteine noch sichtbar, wenngleich sie fast im Sand versunken sind. Die Kammer ist 12,6 m lan, 3,5 m breit und nach 74°30′ ausgerichtet.
Die beiden Gräber sind leicht zu erreichen. Sie liegen am nördlichen Ortsrand von Rolde am Weg nach Anderen. An der Kirche im Zentrum folgen wir den Wegweisern am Hunnebedweg.
D17 and D18 are two remarkably beautiful and well-preserved portal-graves, beautifully situated in the shade of the medieval church of Rolde under huge and old oaks.
D17 consists of 16 sidestones with eight capstones, of which only one still lies on its sidestones. Both endstones are still present also two portalstones. The chamber is oriented to 97°30′. It is 13.9 meters (46 ft) long and 3.8 meters (12.5 ft) wide.
D18 is better preserved. Seven capstones lie on 14 sidestones and two endstones. Both portal-sidestones are still visible, even if they are nearly sunk in the sandy ground. The chamber is 12.6 meters (41 ft) long and 3.5 meters (11.5 ft) wide and oriented to 74°30′.
The tombs are easily reached from Rolde. They are lying at the northern border of the village on the way to Anderen. From the church in the centre follow the arrows in the street "Hunebedweg".